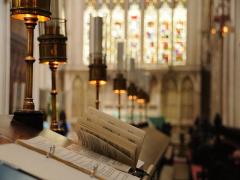 Influential British commentator Nile Gardiner has called for a re-evaluation of his country's "foolhardy and disgraceful strategy of engagement with Libya that began under Tony Blair." Gardiner, in his opinion piece which appeared in The Telegraph, a British daily, called on David Cameron and William Hague to halt the policies of the previous labor government, including ending "all British trade and investment" in Libya.
Nile Gardiner is a British analyst of foreign affairs and politics stationed in Washington, DC. His frequent appearances on television and radio, in both the US and Britain can influence opinions in the political arena as well as in the general public.
Gardiner sees the issue as a moral one, siting the increasing violent attacks by the Libyan security forces on unarmed demonstrators, including what appears to be a massacre at the site of a funeral, where mourners were attacked by Gaddafi loyalist commandos and mercenaries in the eastern city of Benghazi, Libya's second largest city. The death toll stands now at a minimum of 200 anti-government protesters so far in six days of mounting unrest in a country where Muammar Gaddafi has ruled with an iron fist for the past 40 years.
Reversing the political ties between England and Libya will be made more complicated by the fact that the two countries are tightly bound together financially. As evidence of this fact Gardiner sites the Libyan British Business Council's list of 96 corporate members and 26 council members. The LBBC website even has a photo of Gaddafi sitting with the former British Prime Minister Gordon Brown. Included in the list on the LBBC website are some of Britain's most powerful corporations including Standard Chartered, Shell, KPMG, GlaxoSmithKline and BP. Gardiner calls on these companies to cease their dealings with Gaddafi and his regime until, as Gardiner puts it, "the Libyan people are free."
Nile Gardiner concludes with the following call to the leaders of Britain: "Now is the time to turn back several years of shameful engagement with Gaddafi and send a clear signal that Britain will have no truck with a monster that slaughters his own people, and in addition has British and American blood on his hands with the Lockerbie bombing."